About the Acupuncture available at Morning Star Acupuncture Dun Laoghaire – Sandycove and Morning Star Acupuncture Ashbourne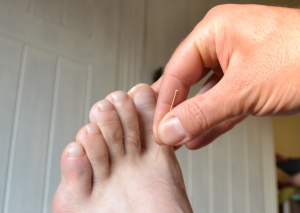 Acupuncture at Morning Star Acupuncture Dun Laoghaire – Sandycove and Morning Star Acupuncture Ashbourne can effectively and safely treat a wide range of diseases and conditions without adverse side effects. The treatment works by accessing points that lie on energy channels which run throughout the body linking organs and tissues. Illness and pain are reflected, or caused, by imbalance and poor flow in these channels. The insertion of needles in points appropriate to the condition being treated promotes a movement towards balance in these channels and then in the organs. This empowers the body's natural healing ability to act unimpeded.
Modern acupuncture practice is based upon the experience of up to 4000 years of use in China. The treatment is relatively painless and is even found to be enjoyable by the vast majority of clients.
This page gives a background about acupuncture. Our home page is available here. Please also click to expand:
There are several simple things you need to do to prepare for your session at Morning Star Acupuncture Dun Laoghaire – Sandycove or Morning Star Acupuncture Ashbourne.
First of all wear loose clothing. This allows access to acupuncture points below your elbows and knees, on your abdomen and on your back. Points in other locations may also be used depending upon your condition.

It is advisable to eat something before your session as low blood sugar levels from not eating near the time of the treatment can very occasionally cause some clients to feel light headed when getting acupuncture. Eating an hour or more before your first session as it will allow easier tongue diagnosis. This is because the tongue changes colour after eating, which could influence your diagnosis. However, it is better to eat just before your session than not at all.

For a similar reason don't scrape the coating off your tongue on the day of your treatment.

It is better not to take alcohol before a treatment.

If possible don't wear make up before your first session. The natural colour of your face can give invaluable information about your health. Make up can make this less easy to see.
As everyone's condition is different, at Morning Star Acupuncture Dun Laoghaire – Sandycove and Morning Star Acupuncture Ashbourne we first ask clients a series of directed questions, observe the tongue (which reflects the state of the inner organs) and take the pulse in order to identify which organ systems are affected and how they are affected. Some of these questions may seem irrelevant to your complaint, but all are necessary to build up a complete picture of your health.
Up to twelve acupuncture points will then be chosen, with different point prescriptions being chosen for every client's individual condition.
The needles used in acupuncture are extremely fine (0.16 – 0.35mm), relatively painless and are left in place for about twenty minutes during treatment. Most people find that the treatment is relaxing and enjoyable and can often feel energy moving through their body.
In general there isn't much you need to do after a session at Morning Star Acupuncture Dun Laoghaire – Sandycove or Morning Star Acupuncture Ashbourne. However, strenuous activity should be avoided as the body is "open" after a session and exercise could lead to a respiratory infection. Also, your body needs time to re-balance after a session, so it is better to allow it to do so by being as calm as possible. However, if you need to return to work or busy family life after a session it isn't a problem.
There are several possible outcomes from an acupuncture session. It could be that your symptoms improve somewhat immediately and will remain better for a few days, with the period of improvement extending over a number of sessions. Your symptoms could initially get worse for several days and then get better. For for some pain conditions the symptoms can get worse for one or two treatments before getting better.
Some clients can feel tired immediately after a session. If so, you should tell me before your next session. Others can feel tired the next day. This generally means that acupuncture has helped shift deep tired energy from your body. As it moves towards the surface you can feel this tired energy that you weren't aware of before.
Chinese Medicine Theory finds that the disharmonies which cause illness can lead to conditions of a deficient nature, where there is a lack of something e.g. blood, energy, fluids or heat, of an excess nature, where there is too much of something e.g. fluids, heat or cold, or where there is a blockage or stagnation due to internal imbalance or injury.
By using various methods of manipulating the needles and choosing points with particular actions the acupuncturist can nourish deficiencies, reduce excesses and move blockages, with needle treatment augmented by cupping and moxibustion therapies (see below).
A series of weekly treatments is normally required to allow the body to return to the harmony needed for good health. Less serious conditions will require a shorter treatment term, with longer term treatment usually needed for more chronic conditions. 
Click here to see conditions treated by Morning Star Acupuncture Dun Laoghaire – Sandycove and Ashbourne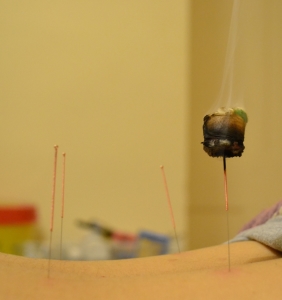 In China acupuncture is not seen as separate from moxibustion or cupping and all three treatments are often used together. The treatment is called Zhenjiu, Zhen meaning needles and Jiu meaning moxibustion.
This therapy involves the burning of dried Mugwort herb close to or on the skin, or on the top of needles. This can not only provide relief by warming areas that are cold, stiff and sore and nourishing depleted yang energy, but the wonderful healing properties of the plant can also facilitate healing on deep levels.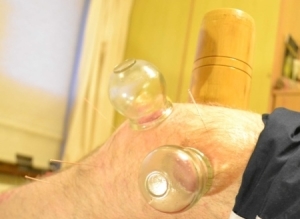 Cupping is an integral part of acupuncture treatment. It involves the application of glass or bamboo "cups" onto the skin by internal suction. This opens the pores and draws out blockages, or pathogens, which are causing injury, pain, stagnation or illness.
The effect is to promote healing by either directly removing pathogens, or by allowing increased and more efficient flow of blood and energy to damaged tissues, for localised pains, or throughout the body to help promote general wellbeing.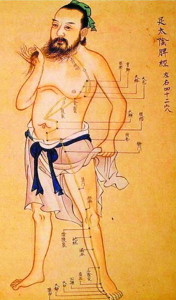 The origins of acupuncture lie in the personal depth achieved by Taoist sages several thousand years ago. They intuitively understood that there were a number of organ systems within the human body which need to interact in harmony with each other and the outside environment in order to maintain physical balance, and that loss of this harmony results in illness or functional upset. These sages also perceived that energy moves throughout the body in channels related to these organ systems.
They instinctively knew that the insertion of needles in certain points along these energy channels would have predictable physical effects and would help restore balance within the body and bring about good health.
With the recording of the work of these sages in The Yellow Emperor's Classic of Internal Medicine the focus of practice in Chinese Medicine began to change from intuition based to knowledge based, a movement that has continued to the modern day and that has seen great change in practice.
Initial Consultation:            €70 depending on the condition and the time needed to evaluate it.
Follow-Up Consultations:   €70
Childrens Follow-Up:          €45
Herbal Medicine:                €40-70 per week
A cancellation fee is charged if an appointment is cancelled within 24 hours of the booked time without good reason.
Morning Star Acupuncture Ashbourne serves County Meath and North Dublin. Areas close by include Ashbourne, Ratoath, Dunshaughlin, Dunboyne, Navan, Trim, Summerhill, Finglas and surrounding areas.  Morning Star Acupuncture Dun Laoghaire – Sandycove serves clients from the greater Dublin area. Close by areas include Sandycove, Glasthule, Dun Laoghaire, Dalkey, Glenageary, Killiney, Deansgrange, Cabinteeley, Foxrock, Monkstown, Blackrock and surrounding areas.
Our Ashbourne Acupuncture, County Meath  clinic is located at the south end of Ashbourne town. Our South Dublin Acupuncture, Dun Laoghaire – Sandycove clinic is located on Sandycove Road. Both Clinics are easily accessible. Free parking is available for clients in Ashbourne, while both free and paid on-street parking are available in Sandycove.